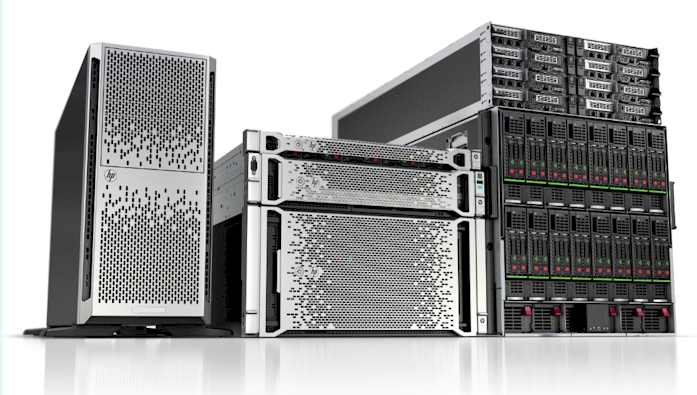 Several days ago I got an e-mail from HP stating that they are inviting several bloggers to attend a new Converged Infrastructure announcement (Project Voyager) via live webinar taking place at HP's Global partner Conference.  Project Voyager is focused around the ISS (Industry Standard Servers) group's new Proliant G8 series of servers.  Last year at HP Discover I had the opportunity to attend the NDA session where some attendees got a sneak peak into many of the emerging technologies coming out of HP.  Since that time I have been itching to share details about the latest generation of HP servers.  So, now that the red tape is lifted and I don't have to worry about black helicopters throwing me into HP prison let's take a "thirty thousand foot" look at the technology and understand why HP has widened the lead even more between itself and its competition.
HP's Project Voyager produced a staggering 900 patents derived from over two years of development backed by $300 million of R&D horsepower.  On the webinar HP stressed the fact that they are dubbing the G8 servers as  "Self Sufficient" technology designed specifically to eliminate the pain points that IT Professionals have been experiencing for years.  Since the marketing team at HP is pushing the term "Self Sufficient Servers" so aggressively I feel it is important to take a look at what this actually means and how that translates into better night's sleep for the administrator.
CAPABILITIES OF GEN8 SELF SUFFICIENT SERVERS:
Agentless Intelligence – all of the software that monitors and maintains the servers are 100% built in. Expect it to only take three seconds to see the screen on bootup.
1600+ analysis parameters that fix problems proactively.  HP predicts 5x faster problem resolution.
Smart Updates provide one click access to update the firmware, etc on all of your servers in the data center.  HP describes a scenario where 32 Dell servers can take around 295 minutes (over 4 hours) to update where the G8 series can take about 10 minutes which should take substantial stress off administrators and free them up to focus on more strategic initiatives.
HP will offer a full mobile app with capabilities to deploy servers using a QR code scan.  (Not much info was provided on this so I may have to change this as more info comes out)
Since storage is the leading cause for bottlenecks in application HP has introduced more intelligent caching with PCI-3 for 85% faster storage. (6x IOPS improvement)
Smart Memory – 25% faster with smart alogroithms to eliminate the common memory errors.
(FBWC) Flash backed write cache eliminates the need for batteries in the server.  RAID setup is 95% faster
GPS – Ability to easily locate servers in data center.  Spending time running through racks for the right server will be eliminated.  (I'm really interested in seeing this hands on)
3-D Sea of sensors – Energy aware workload that allows you to easily visualize data center power and cooling output in a graphical interface.
HP Smart Socket – Addresses one of the most common issues with main boards.  The Smart Socket eliminates potential issues when installing the processor.
HP Smart Drive – Eliminates the potential for data loss as the server will tell the administrator visually exactly which had drive is approved to be removed and replaced.  I have seen many times where the wrong hard drives is pulled which caused unplanned downtime.
Drivers and utilities stored directly on your server.  Once again that should please many admins!
INSIGHT ONLINE – THE WORLDS FIRST CLOUD BASED IT OPS & SUPPORT PORTAL
Anytime access from any device for support info, contracts, warranty's, etc.
Find and fix problems before they result in downtime via Insight Online and Insight Remote Support.  A realtime closed loop will provide feedback on how things are running.
Eliminate 50% of problems before they happen and cut service time down 66%.
Proactive support and service.  Single point of contact for one person to help solve problems.
I'm very impressed with the strides HP has made with the Gen8's.  Since the Gen8's have a lot more things going on in the background that opens up more room for bugs and issue.  HP has a very good record when it comes to server launches due to the immense amount of testing they do before a release.  I am very impressed with the update and I am making a bold prediction that Cisco's UCS will not win as many deals when they are up against HP.  HP has lead the server market for bout 20 years so it is good to see that they are not sleeping at the wheel and staying true to the word "Invent".  I will be posting MUCH more info in the coming weeks as they come down the pipe. -Justin Vashisht